First order of business. I would like to thank the reader who donated last week for their contribution to my study abroad experience. Last week my Airport card stopped functioning, essentially cutting me off from all means of communication with family and friends back home. You paid for most of a DWL-G122 USB WiFi stick, which after some extensive hacking, works very well with OS X. Thank you very much and keep an eye on your mailbox. Reader contributions go toward legitimate needs. The exchange rate is hovering at about 1.35 US per 1 Euro. This makes everything 1/3 more expensive. I really do appreciate not having to worry about some of the minor expenses.
On Thursday, June 7 I will be making my way into Bayern (Bavaria) to the historic city of München (Munich). This will be the last "big" journey for me until the end of the semester. I plan on making it a good one by visiting Neuschwanstein and Konzentrationslager-Dachau. Of course you cannot go to München and not enjoy some of the local Brauerei (breweries).
When it comes to donations I cannot be picky. The axim "Beggars can't be choosers" certainly applies. I do not make specific requests normally, but this one is too good to pass up. I have purchased some small Germany related momentos in the past. I have a stack of postcards, requisite pieces of the Berliner Mauer (Berlin Wall), Krieg der Sterne: Das Imperium schlägt zurrück (Empire Strikes Back), and a scarf. However there is one thing that would trump all: Genuine Bavarian Lederhosen.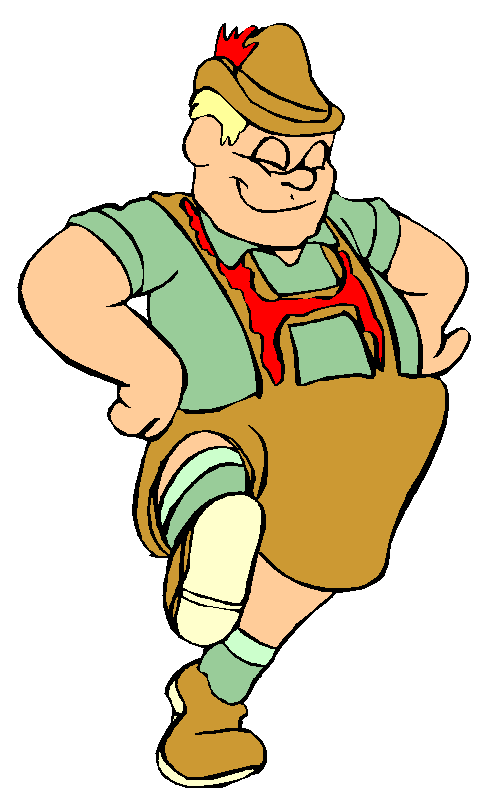 If you can help me offset the cost of a pair of Lederhosen I promise the following. I will record myself dancing and singing a german drinking song. I will then post it to the interwebernettubes for all to enjoy. I leave for München next Thursday morning and will be there for only three days. Hell, I'll even wear these things back home by request for all who donate. Even if I don't have enough to justify the cost, your donation will go towards food, razors, and other daily expenses. It is for a good cause.
[donate]