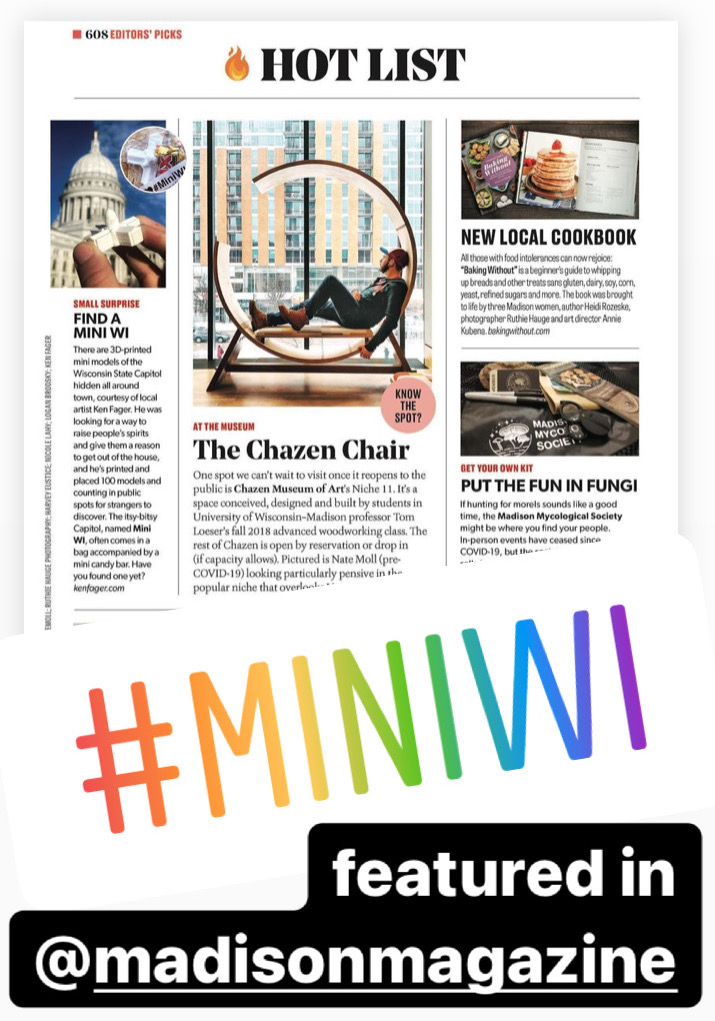 If you are finding your way here courtesy of the Madison Magazine Hot List for May 2021, hello!
Way back in the end of February or early March when they asked about the Mini WI project there were maybe 100 models that have been distributed. If I had to guestimate where we are now it is about 500 based on my materials consumption records.
How do I get a hold of one?
They must be found.
I try to leave a small handful whenever I am out and about. This means they mostly appear around the Capitol, State Street, the UW Madison campus, and other areas in the city. So take a closer look in those shrubs, flower beds, Little Free Libraries, nooks, and crannies. I sometimes leave clues on my Instagram story. I tend to surprise the r/madisonwi subreddit with unannounced clues too.
They are NOT FOR SALE or available on request.
Sorry, being responsible for other people's consumption-based happiness sounds like a complete drain on the fun of this project. There may be opportunities in the future, but that is not something I am pursuing at this time.
Can I contribute to this project?
Yes! This all got started with a government stimulus! I will continue to create new Mini WI for as long as it is sustainable. I have received candy, parts, and thermoplastic from generous people.
Please know that contributing materials does not entitle you to a Mini WI. You have to find one just like everyone else. With that clearly stated please see this Amazon Wishlist for an up to date listing of what materials are needed.
What's next for Mini WI?
I've got fabulous ideas in mind, but that's already saying too much.